Is Jameis A Better QB Than He Was A Year Ago?
December 21st, 2019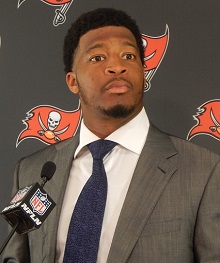 So how much cash did Jameis Winston lose today?
Anyone think Team Glazer is eager to sit down for a little post-Christmas cheer with the agents of America's Quarterback to talk about a multi-year contract?
That ain't happening.
And it sure might have if Jameis played like a guy making his 69th start instead of a guy making his 19th.
Joe believes Jameis lost millions with his performance today in a showcase game. Heck, his GM called it a playoff game. (See home page)
What puzzles Joe is Jameis' decision-making seems significantly worse than last year. How could that be? And it's too late in the year to tell Joe that Jameis is still learning the offense. His four picks today were complemented by a couple of dropped picks. Were any of those throws good decisions?
Bruce Arians was hired to fix/improve Jameis. The highs are higher and the lows are lower. But Joe can't call that fixed.
Only delusional Bucs fans thought this would be a playoff season, but every Bucs fan knew this year was all about honing/improving Jameis and helping him develop consistency. He already had the talent and the enough stats to open eyes.
But is Jameis better? Joe can't say Jameis is. But he's definitely good enough for another try.