High Grades From Notorious O-Line Critic
December 10th, 2019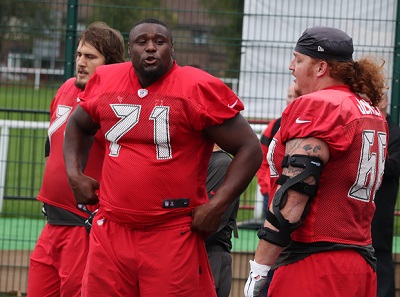 Joe had to hit the rewind button a few times.
Joe couldn't believe what was happening. Was the world coming to an end?
Former Buccaneers guard Ian Beckles (1990-1996) was assessing the Tampa Bay offensive line on his In The Trenches podcast yesterday and the notorious critic appeared to say the Bucs can win consistently with what general manager Jason Licht has assembled.
"Other than Demar Dotson, our offensive line is pretty much set for next year. We can win with that," Beckles said, as Joe dropped a newly cracked Dunder & Blixem.
Beckles even praised veteran backup Earl Watford for his work Sunday in place of injured Alex Cappa. And Beckles certainly knows what he's watching at his old position.
Man, this is stunning. Beckles has been very harsh in the past on Donovan Smith. Apparently, Smith has slightly won over Beckles.
The Bucs have good size on their line, Beckles said, but it's not super tough. Still, he seems to think it's good enough. And this comes just a week after former Bucs tight end Anthony Becht, a fierce blocker himself, said fans shouldn't blame the offensive line for Tampa Bay's poor rushing attack.
Interesting stuff.
Maybe this will be the offseason that the Bucs finally find a solid starting NFL running back, which would make the O-line look a lot better.