"He's A Premier Left Tackle"
December 13th, 2019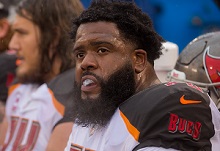 Donovan Smith is paid like an elite left tackle. His re-signing was one of the first big moves of the Bucco Bruce Arians regime.
But does he play to his pay grade?
A man of logic would suggest Smith is the left-edge anchor of a crazy-dangerous passing game that puts up the second-most yardage in the NFL, therefore, he must be pretty good?
Smith also answers the bell for every start, plays hurt and has more than enough size to run block. Heck, even notorious Bucs offensive line critic and former Tampa Bay guard Ian Beckles says Smith and the line are just fine.
That brings Joe to head coach Bucco Bruce Arians, who said on Buccaneers Radio this week that Smith is "a premier left tackle" and the Bucs will need him against Lions pass rusher Trey Flowers on Sunday.
Smith will earn $14.5 million next season for the Bucs. As of now, that's top-5-level money at left tackle in the NFL.
Man, two elite receivers, two talented and experienced tight ends, a premier left tackle — just imagine if the Bucs found a quality NFL running back for next season and cut the interceptions from, say, 26 to 16?