Fresh Legs, Questionable Hand
December 8th, 2019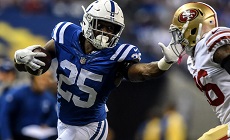 Another A-list running back will try to figure out the stingy Tampa Bay run defense today.
His name is Marlon Mack and Joe will not revisit how the Bucs left the loaded-with-running-backs draft of 2017 without Mack or any of the other stud rushers it produced.
Mack, 23, is the real deal. He's the 10th-leading rusher in the NFL this season despite missing two games, and he's churning out 4.5 yards per carry on the heels of a strong 2018 season that included a big game in the playoffs and averaging 4.7 yards per carry. Not bad for a fourth-round pick! (Out of USF in the Bucs' backyard!)
Mack has missed the last two Colts games with a broken right hand but he will return today. This scares Joe a bit because it means Mack's legs are crazy fresh. But the healing hand could be an X-factor. Mack has yet to fumble all season but maybe, just maybe, that will change today if his grip isn't quite right.
Joe suspects Todd Bowles has made that reality very clear to his defensive players, especially the Bucs linebackers.
Joe watched a couple of Colts games last week and they're just a different team with Mack in there. The Colts offensive line is strong, but it seems almost more inspired when Mack is getting the rock.
In his last game, Mack was tearing up Jacksonville for 109 yards on 14 carries before he got hurt. Keep in mind the Bucs couldn't run on the Jaguars last Sunday.
Still, Joe suspects Mack will be added to the list of top backs stuffed by the Bucs.