Falcons 28, Buccaneers 22 (Overtime)
December 29th, 2019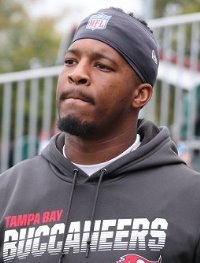 Well, the Bucs sure put on a show.
And some might say it was another sh#* show for the home faithful, as the Bucs fell to 2-5 this season at the Den of Depression.
The Bucs came out flat, spotted the Falcons 10 points (no surprise there) before rallying all the way back (no surprise there), but it just wasn't enough to overcome too many mistakes, horrid kicking and a pick-6 in overtime.
You can't make this stuff up.
Our beloved Buccaneers finished 7-9 on the season but in third place, as the now 7-9 Falcons earned second place on tiebreakers.
Over and over again today, the Bucs defense manned up but the offense couldn't get the job done.
O.J. Howard and Cameron Brate combined for one catch, a two-yard TD grab by Brate. What the heck?
Kudos to Ronald Jones for his first career breakthrough game, 11 carries for 106 yards. Devin White's 90-plus yard scoop and score was a thing of beauty. The pass rush showed up big time, as expected, but it just wasn't enough.
The Bucs aren't a good team, but fans knew that before kickoff. But they are better than they were last season, despite Jameis Winston finishing with 30 interceptions and a new NFL record 7 pick-6s.
Look at it this way, the draft gods shined upon Tampa Bay today.