"Dependable" Carl Nassib
December 5th, 2019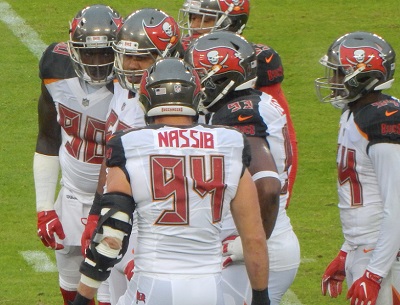 Linebacker/defensive lineman Carl Nassib fits right in on the Bucs' D-line, where he joins a too-long list of productive players whose inexpensive contracts are expiring.
Nassib has been blessed with that magical cash-attracting combination of youth (26 years old) and sacks (5 this year and 6 1/2 in 2018).
But team-captain Nassib offers even more, Bruce Arians told Buccaneers Radio this week.
"Carl, he's so dependable. You know, and being able to move him inside, he's really a mismatch for guards," Arians said with adoration in his voice. "And again, big, big sack-fumble that he created Sunday."
Nassib is not a special player but "dependable" appears to be a good word for him. He is versatile and has been productive in a Bucs uniform, plus Arians calling him a "mismatch" for guards is high praise and speaks to Nassib's ability to fit into any defense.
Someone will pay Nassib at $6 million next season, more if he can get his season sack total up to seven or eight. Will it be the Bucs? They can't re-sign everyone.