Charlie Weis: Fire Jameis If You Want To Win
December 10th, 2019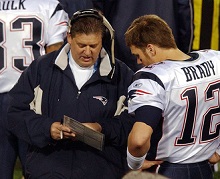 Retired NFL offensive coordinator Charlie Weis was the playcaller for elite offenses with the Jets (1998) and in New England (three Super Bowls), and he had a strong 2010 campaign with Chiefs, where he shocked the world and pulled a Pro Bowl season out of quarterback Matt Cassel.
So Joe has all the respect in the world for Weis when it comes to NFL offense.
Weis now collects a paycheck for his weekday show on SiriusXM NFL Radio. It was there yesterday that Weis was adamant the Buccaneers cannot win with Jameis Winston, America's Quarterback.
"I think if the Bucs want to challenge in the NFC South, they need to get another quarterback," Weis said. "I think Jameis can play in this league, but he's shown, despite his top-line ability, to be too inconsistent to count on winning 10 games or more.

"I mean, he's going to win you a bunch of games, but he's going to lose you a bunch of games. [Sunday,] you happened to have one of those rare games where he tried to do both … and you ended up on the long end of that and not the short end. I think the kid's got a bunch of ability. But he's been in the league five years, he's proved at best he's inconsistent."
Weis' perspective is interesting because he's looking at it from the vantage point of winning a Super Bowl, not just being a good quarterback.
Is Jameis too inconsistent to succeed in the playoffs? Joe can't answer that question, and therein lies the concern of many fans who think hard-working Jameis simply has reached his peak through 67 starts.