Arians Talks Simple Defensive Mistakes & Jameis Being The Best Deep-Ball Thrower In The NFL
December 10th, 2019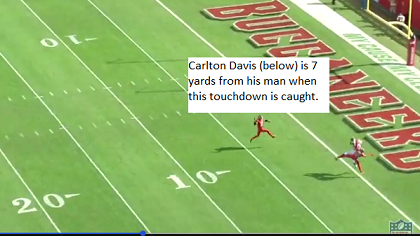 Bucco Bruce Arians sat down for a 1-on-1 interview yesterday and talked about some good and some bad.
One thing in the bad column was an explanation of simple defensive mistakes that cost the Bucs points against the Colts. Arians explained the Bucs were burned by deep balls in man coverage when players decided not to cover their man.
An example is above, a screen shot from the All-22 film at NFL.com.
Roller coaster cornerback Carlton Davis was in man coverage on that Colts touchdown and pressed his receiver at the line of scrimmage, and then Joe can't explain what Davis did after that. It looked as if he hadn't played football before. Safety Andrew Adams contested the catch but it was too late.
"It's as simple as just cover your man. That's how simple it really was," Arians said via his sitdown with WFLA-TV sports chief Dan Lucas below.
Arians also added that he believes Jameis Winston is throwing the best deep ball in the NFL.
"I don't think anybody in the league is throwing the ball past 25 yards better than he is right now," Arians said.