A One-Year Deal Without The Franchise Tag
December 17th, 2019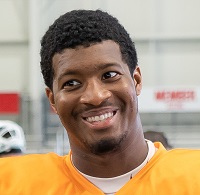 With Carson Wentz and Jared Goff earning more than $30 million per season, what exactly do you think Jameis Winston will want to be paid in 2020?
NFL Network's lead insider reporter weighed in on the subject yesterday.
Ian Rapoport talked about how the market value for Jameis is likely in the low-to-mid 30s per season (yes, millions) and the Bucs are going to be forced to pay Jameis like a good starter.
Paying him could mean the franchise tag for 2020 (roughly $27 million for just one year), but it definitely could be a traditional one-year contract "basing a one-year deal around the franchise tag total with incentives," Rapoport said on WDAE radio.
"If the Bucs aren't ready for [a multi-year deal for more than $30 million per annually], then a one-year deal would actually make sense for both sides," he added.
Joe's been chatting about this at JoeBucsFan world headquarters for days. Nothing is stopping the Bucs from telling Jameis he will get the franchise tag unless he signs, say, a one-year deal that includes incentives to get him up to $30 million with the tag total as the base pay.
Jameis would have nothing to lose by signing it, and then the Bucs could reserve the franchise tag for Shaq Barrett.
Joe's not touching the transition tag option here because Joe doesn't believe it makes sense for either player or the team.