A 309-Yard Lead With One Game To Play
December 23rd, 2019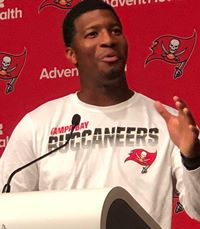 The sting of 28 interceptions and 8 losses this season won't make for the happiest of Christmases for Jameis Winston.
But one special 2019 gift appears to be on its way from Santa.
America's Quarterback has 4,908 yards passing. That's tops in the NFL and 309 yards more than Cowboys QB Dak Prescott. So barring a bizarre season-ending Sunday, Jameis will lead the league in passing and break the 5,000-yard mark.
Jameis reaching that milestone would cap off a truly bizarre season.
And if he throws two more picks, well, then he'll be the first 30-30 man in NFL history (30 TD, 30 INTs).
Jameis has 31 touchdowns versus those 28 picks. Prescott has 26 TDs and 11 interceptions.