11 Carries, 12 Yards In The Second Half
December 1st, 2019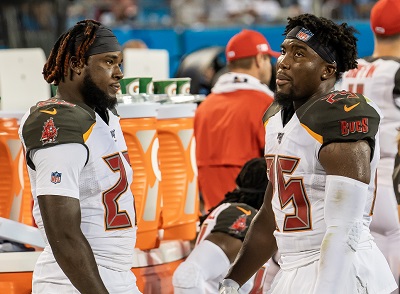 The Bucs had a dream scenario for their offensive line and maligned running game today in Jacksonville, a freakin' 25-point halftime lead.
That's what every offense wants, a chance to eat up the clock and move the chains on the ground, crushing the will of its opponent in the second half.
So how did that work out?
Tampa Bay's first drive after halftime featured Ronald Jones with 2 carries for -1 yards. A Jameis Winston fumble ended the six-play drive.
Next series? Peyton Barber replaced Jones and had two carries for seven yards, plus two good runs called back (one for holding and one for a pre-snap screwup).
Next series? A 3-and-out featuring Barber up the gut twice for six total yards.
Next series? Barber up the gut twice for no-gain near the Bucs end zone.
And then that was followed up with a four-play, field goal drive for the Bucs on a short field. Yep, you guessed it, the Bucs ran Barber up the gut twice for -2 yards. Backup T.J. Logan added a two-yard run before the kick.
The second-half rushing tally mercifully ended with 11 running back carries for 12 yards. That's a brutal fail by the offensive line and the running backs, and throw in the playcaller, too.
Good teams are supposed to be able to run the ball when the other team knows it's coming, or at least create opportunities outside of running up the gut. How bout spreading it four-wide and running a draw? The Bucs lost a battle of wills in the second half and it just highlighted the fact their running game is second rate.
Kudos to Barber for his fifth and sixth rushing touchdowns of the season. The Bucs haven't seen that many from a running back since Doug Martin had six in 2015, and there are still four games to play. But the Bucs need to fix this darn running game if they want to be a playoff contender.
Joe has written this several times, but the Bucs will need to address running back yet again this offseason. Perhaps they will?
Joe knows a straight answer won't be had, but it's a bit stunning how Bruce Arians and Byron Leftwich rarely trust Ronald Jones in the red zone offense or in short yardage, and they sit him down for Peyton Barber in a game that essentially was in the bag.
Jones needs reps so the team can see what they have entering this offseason. Joe can only conclude the Bucs already see Jones as a back with a lot of holes in his game.