"Unknown" Godwin?
November 26th, 2019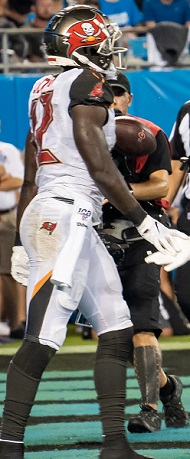 Is Chris Godwin an "unknown" in the NFL?
One big name thinks so and Joe finds that to be archaic thinking.
The whole concept of an "unknown" receiver makes Joe laugh and do a head-shake.
Let's see, an estimated 60 million people play daily and/or season-long fantasy football, and Joe is very confident those folks know all about Godwin. He was a productive, never-miss-a-game force last season, and he's totally blown up in the NFL since early September.
But Peter King still thinks Godwin is an "unknown."
Yesterday, the hot-dog-eating-contest-protesting, mock draft-scowling, L.L. Bean-wearing, Second Amendment abolitionist, Mike Florio-arguing, parrot-insensitive, chewing-with-his-mouth-open, soup-gulping, California train-romancing, anti-football proliferation, outhouse-admiring, airline-napping, steerage-flying, Yogi Berra-worshiping, urinal picture-taking, video game-playing, Taylor Swift-listening, pickpocket-thwarting, Bucs-uniform-frowning, Allie-LaForce-smitten, Big-Ten-Network-hating, pedestrian-bumping, olive oil-lapping, popcorn-munching, coffee-slurping, fried-chicken-eating, oatmeal-loving, circle-jerking, craft beer-chugging, cricket-watching, scone-loathing, college football-naïve, baseball-box-score-reading, NPR-honk, filthy-hotel-staying, fight-instigating, barista-training, Budweiser-tolerant, baseball scorecard-keeping social activist NFL insider of NBC Sports wrote about how Godwin is a true superstar people don't know about.
Chris Godwin, wide receiver, Tampa Bay. There's no way Godwin can stay unknown much longer. Can he? After catching seven balls for 184 yards and two more touchdowns in the beatdown of Atlanta, Godwin, the third-year former third-rounder from Penn State, stands second in the NFL with 1,071 receiving yards, fourth with 70 catches and first with nine receiving touchdowns. What's made Godwin such a threat for Tampa Bay is his ability to be both a deep and intermediate threat. His 15.3-yard average is better than both Michael Thomas and Julio Jones.
Joe's glad to see Godwin get the love.
As Joe has written multiple times, the Bucs should be planning to lock down Godwin to a new contract after this season, rather than waiting until after 2020, Godwin's fourth and final season of his rookie contract.
That's probably the Bucs' only chance to get him at a discount.
Wave the guaranteed money in front of Godwin and let him decide whether he prefers a lifetime of financial security or to roll the injury dice and earn the $750,000 due him in 2020.