Time To Hire A Defensive Backs Consultant
November 18th, 2019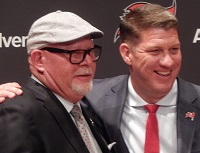 It's time to put the egos aside at One Buc Palace.
It's time to recognize an obvious failure and to address it with every resource at the team's disposal. Immediately.
The Buccaneers defensive backs situation is a mess.
Team Glazer knows it. Every thinking Bucs fan knows it. NFL offensive coordinators are acutely aware, as are backup quarterbacks and good fantasy football players.
Without diving deep into the ineptitude of the 2017 and 2018 Bucs defensive backs for a moment (yeah, it's hard, but try), it's obvious Jason Licht's staff is far below average when it comes to picking players for a secondary. Facts are facts.
And now we've learned that after assessing the Bucs secondary needs this offseason, the Arians-Bowles combo was as off the mark as Licht's crew. Facts are facts.
Staying in the present, every thinking Bucs fan knows Todd Bowles, Bruce Arians and Licht had strong hands (perhaps equal influence) in forging the decisions that led to stocking the Tampa Bay secondary with talent this season. And they screwed up royally.
Now what?
Bucs officials can pretend (and that includes you, Team Glazer) they are good at this aspect of their jobs, or they can find quality guidance and help now.
What's another body on the staffs of Arians and Licht? Get defensive backs gurus in the house immediately to help sort things out before the Bucs try to upgrade at safety and corner before next season.
Either get help or ignore the reality. Hopefully, the Bucs choose the former.
The three Saints cornerbacks who stifled the dangerous Bucs receivers yesterday? Two were acquired with fourth-round picks and one was a third-rounder. The safeties were both second-round picks. Of those five defensive backs, New Orleans drafted four and traded a fourth- and a seventh-rounder for the other.
And they got the job done while Pro Bowl cornerback Marshon Lattimore, another drafted corner, sat on the bench.
In past years, Joe has called for the Bucs to hire consultants to fix problem areas. This is nothing new. Joe first started pounding that drum when Raheem Morris' teams started slowly nearly every week and then played markedly better in the second halves of games.
What's it going to be Licht, Arians, Team Glazer?
Status woe or aggressively addressing a weakness.