"The Thing Is, Cap, It's Important To Him"
November 7th, 2019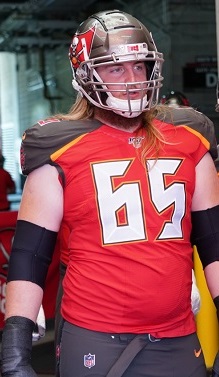 It's no coincidence that the Buccaneers' offensive line revived in Seattle with the return of right guard Alex Cappa to the starting lineup.
With all of Coach Arians ' talk (silly talk?) about how travel has taken a deep toll on the team, it sure is interesting how the biggest beasts in the trenches didn't seem tired at all.
Anyway, Joe is celebrating all things Cappa today. Last week, Joe listened to Bucs offensive line overseer and assistant head coach Harold Goodwin break down each of his starting O-linemen. During that chat, Cappa was the only guy Goodwin referred to as being a deep lover of football.
Enter Ali Marpet. He was on Buccaneers Radio two days ago and shared a similar sentiment.
"The thing is, Cap, it's important to him and he wants it, to play at a very high level," Marpet said. "He listens to coaching. He tries to get better every day."
Again, both Goodwin and Marpet stressed Cappa's attachment to the game when speaking of him. That, too, is no coincidence, and it's great to see. The dude not only played through a broken arm this season, he returned three weeks later without missing a beat.
Cappa is taking the massive second-year leap that most good players do. The pride of Division-II Humboldt State, a late third-round pick, is warming Joe's football heart.
Just imagine if the Bucs could find an electric running back and an angry right tackle in Rounds 2 and 3 of the draft next year.