Smelling An Upset
November 2nd, 2019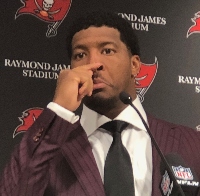 A guy who makes a living running football numbers senses that smart money will be laid on the Bucs covering the spread tomorrow, and perhaps the money line for an upset in Seattle.
Warren Sharp runs "Sharp Football Analysis" and is one of the top guys in the world of football statistical graffiti. Simply put, he just doesn't like the matchups for the Seahawks.
Sharp, appearing on "The Lefkoe Show" podcast video below, Sharp said the Seahawks and their run-first offense and weak secondary play right into a trap with the Bucs.
And Sharp believes even if the Seahawks take an early lead, Seattle offensive coordinator Brian Schottenheimer just cannot stay away from the forbidden fruit that is running the football, even if Seattle is trying to pound on the league's best run defense. This, Sharp believes, could allow the Bucs to pass their way back into the game or maybe even stretch a lead.
"They haven't done anything enough to prove to me they trust Russell Wilson enough to throw the football enough," Sharp said if the Seahawks. Sharp admitted the Bucs' secondary is horrible but Schottenheimer, he is convinced, won't test the Bucs' secondary because passing is against his DNA.

"You can't run the ball against Tampa Bay."
You can watch Sharp explain to host Adam Lefkow why he's bullish on the Bucs this weekend. At many sportsbooks, the Bucs are a 5 1/2-point underdog.
The Bucs chatter begins at the 36:10 mark.