Saints 34, Buccaneers 17
November 17th, 2019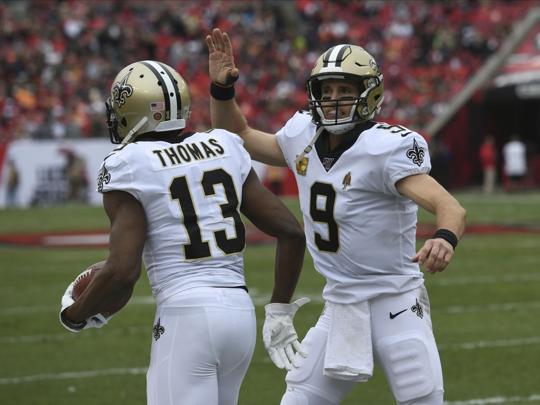 Today the Bucs did what they do best at home — not show up.
Did Tampa Bay look like a team mathematically alive in the playoff chase, or like a team giving a special effort on its home turf against a division rival?
Nope. They were sleepwalking for much of the game.
You just can't do that in the NFL and be taken seriously. And Bucco Bruce Arians won't be able to blame this one on travel fatigue.
At 3-7, the Bucs are now tied for the NFC South cellar after Atlanta clobbered the Panthers today. The Falcons own the tiebreaker edge in the division because they have two division wins; the Bucs have just one.
Everything was easy for the Saints today: passing, throwing, severely limiting Mike Evans and Chris Godwin, and their special teams were excellent. The Bucs looked the part of second-rate team following an "ugly" win against the Cardinals last Sunday.
Hat tip to rookie receiver Scotty Miller for his breakout day as a pro, four catches for 71 yards and another deep opportunity that was underthrown by Jameis Winston in the third quarter. Chris Godwin had a heck of a catch-and-run for a touchdown, too.
As for America's Quarterback, well, he was rattled by the Saints pressure and he found a way to deliver three more unacceptable interceptions and complete less than 60 percent of his passes.
You can't blame Vernon Hargreaves for this one.
Stick with Joe for plenty out of this game from the unhappy locker room at the Den of Depression.