Red Zone Offense Clicking
November 12th, 2019
It frosts Joe that one area of the team dragging the Bucs down consistently was not addressed until it was too late.
But enough of the griping about the secondary (for today). Joe is here to celebrate the red zone.
The Bucs are third in the NFL in points scored per game. And Joe has a hunch that has something to do with red zone success. Yes, the Bucs are having success in the red zone.
Per the good people of NFL Films compiling data for BSPN's NFL Matchup, the Bucs are No. 8 in the red zone in scoring touchdowns. That's a jump from last year when the Bucs finished in the middle of the pack.
Scoring points and scoring touchdowns in the red zone is just evidence that Bucs' offense is getting the job done this year, despite the fetish for forcing passes to Breshad Perriman, Scotty Miller and trying to hide O.J. Howard and Cam Brate.
Imagine what this offense would be if Bucs offensive coordinator Byron Leftwich made a concerted effort to get the ball to Brate and Howard, and forget about the two stiffs on the outside?
But yeah, let's get rid of the quarterback, you know, because Andy Dalton.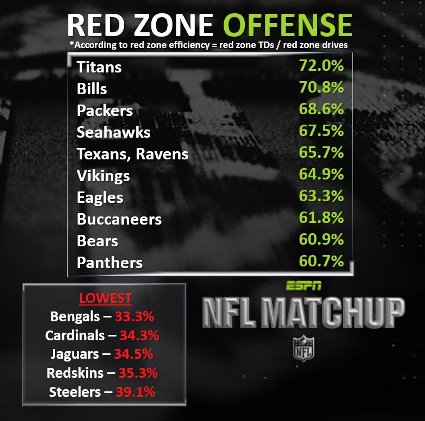 #Buccaneers QB Jameis Winston told us why things are starting to click on offense the last few weeks…

👇AUDIO👇 pic.twitter.com/67DdQppNUh

— SiriusXM NFL Radio (@SiriusXMNFL) November 12, 2019