Pride Game … Hopefully
November 15th, 2019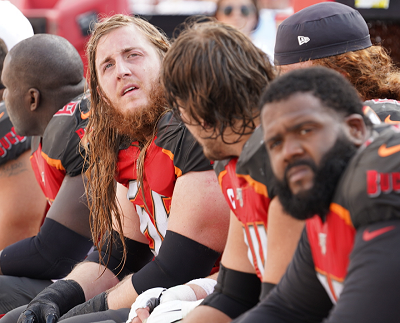 Not including linebackers or defensive backs, the Saints' defensive line rang up an impressive array of numbers when it feasted on the Tampa Bay defensive line in October.
Per the go-to website in New Orleans, Nola.com, the Saints D-line alone had its very best game against the Bucs earlier this season, racking up six sacks and nine quarterback hits.
Of course, some of that is on Jameis Winston, America's Quarterback, for holding the ball too long and causing sacks. But a hearty chunk is on the veteran, highly-paid offensive line, otherwise know as the line that Jason Licht built.
The O-line has been inconsistent through the season and Joe hoped last week against Arizona would represent turning the proverbial corner for the second half of 2019.
It didn't. They were blown up too often, too many negative runs, although you find Joe calling the Bucs' O-line bad — because they're not.
But can the big boys please bring their powerful A-game on Sunday? Please? Joe is begging. It might be the only shot the Bucs have of beating the Saints at the Den of Depression.
Another shot is the Bucs' D-line taking advantage of the Saints losing their starting left guard. There have to be a couple of big plays to be made because of that absence.