One For The Contract Column
November 24th, 2019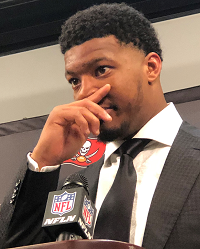 America's Quarterback, James Winston, looked like a crazy-talented and confident starting quarterback today.
It sure helps when your defense doesn't suck ass and you only get hit once.
Roller coaster Jameis is quite a wild ride.
He sucks. He's great. He's dumb. He's smart. He routinely fights for every yard whether it's wise or not. Jump pass to Dare Ogunbowale anyone? And Jameis is one heck of a scrambler and has been for two seasons.
On the day Jameis registered his 99th and 100th turnover of his young career, the most by a QB (by a mile) since 2015, Jameis also threw three touchdown passes, racked up another 300-yard game and ran for 38 yards while showing great resiliency within the game.
Yes, this is who Jameis is. So nothing today surprised Joe at all.
What would surprise a lot of fans is if Jameis can string together a fantastic finish to this season, with another four or five games like this one today against Atlanta.
As Joe wrote this morning, it's the march to $100 million guaranteed. Can he get there?