"They're Not Doing What They're Being Coached To Do"
November 3rd, 2019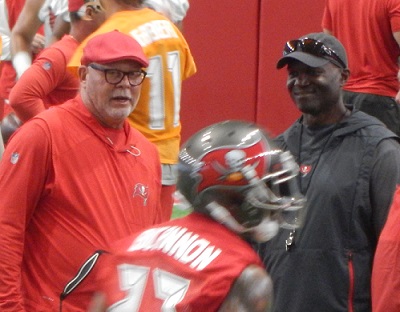 Someone very, very, very close to Bucco Bruce Arians, a true Buccaneers and Arians insider, is not a happy camper.
Joe has written previously about feisty Jake Arians, son of the Tampa Bay head coach. The younger Arians, also a friend of general manager Jason Licht, co-hosts a podcast for The Draft Network and once in a while shares good insight into his dad's team.
And this was one those of weeks.
Joe heard a good nugget when Jake Arians ranted about the Bucs' losing ways. He praised plenty about the defense but lamented turnovers and the Bucs' trademark — finding ways to lose.
But he also got fired up saying players are too often tuning out coaches.
"They have a young team that doesn't know how to win. And they're not doing what they're being coached to do because I know how good the staff is," Jake Arians said. "Regardless if it's my frickin' dad or not, you can kiss my ass on all that. The proof is five years in Arizona; the staff is phenomenal. They're not doing everything they're being coached to do. And it's biting them in the ass and they're losing games. That's three they've given away."
Joe's completely frustrated hearing this kind of thing. Joe's still getting over assistant head coach Harold Goodwin saying the roster is still working on buying in to the coaching staff this season.
When does the madness end? And if players aren't responding to coaching, then where are the lineup changes? Where was a trade or two?
Joe sure hopes the Bucs find a way knock off Seattle tomorrow and avoid a four-game losing streak.