No More Excuses
November 10th, 2019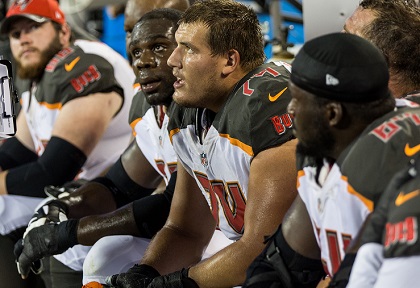 One thing Bucs fans should be able to agree on is the success of the offensive line against Seattle.
Sure, there are always the weekly howls for Donovan Smith's head and the prayers for Demar Dotson's retirement, but the reality is the O-line is talented and has put together a few strong games this season. And last Sunday was one of them.
But now this unit must finally find consistency. The O-line is where the massive money is on the roster, along with plenty of experience playing together. The underachieving has to stop.
Yeah, the Buccaneers running backs are subpar by NFL standards. Yes, the starting quarterback might be the most inconsistent performer in the game. Those guys likely are playing up to their NFL ceilings, but Joe can't say that about the line.
The Bucs at least should be dominant on the line's left side, to the point playcaller Byron Leftwich should be able to take advantage of that in various ways. But it's just not happening.
The Cardinals (3-5-1) enter the Den of Depression today with a miserable defense. Bad in all areas. In every game they've played this season, Arizona opponents have rushed for more than 100 yards.
So today is a day the Bucs' offensive line, if sufficiently motivated, should be able to spearhead a balanced attack and flat out lead the team from the opening whistle on their home turf. Sadly, Joe's not sure they want it enough to do it for four quarters.
If Bucs fans cannot confidently call the O-line nasty and consistent throughout the second half of this season, then there really should be a significantly shakeup there after the season.