More Resilience On Display For Gay
November 10th, 2019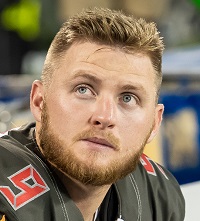 Bucs fans all saw Matt Gay crap the bed in September against the Giants and quickly bounce back to earn Bucs fans' trust, which is very hard to do around here at the kicker position.
Gay was good following the Giants fiasco but lost in last week's overtime loss at Seattle was a missed 50-yard field goal. Hey, you can't make them all, but then today Gay came back home and missed a 46-yarder in the fourth quarter with the game tied at 20.
Joe was heartbroken and tense, but then a flag on Arizona wiped the miss off the board and gave Gay another try from 41 yards.
He nailed it.
A mentally weak rookie kicker might have fallen apart right there. But Gay again showed he can handle pressure.
He's not the best kicker in the NFL, and he won't get Pro Bowl consideration, but Gay has managed to be pretty darn good, which is worthy of a parade around these parts and high praise on these pages after a years of bad kickers.
A strong finish to this season by Gay would give Joe a load of confidence and make the Bucs' high-powered offense that much more dangerous heading into next season.