Judging Jameis
November 12th, 2019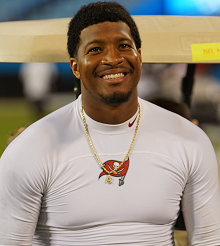 Some may view quarterbacks through the lens of team wins. Others may view through a prism of picks.
But Bucs coach Bucco Bruce Arians looks at the success of quarterbacks in a different way. What can you do in crunch time?
And using that at a measuring stick, Arians says America's Quarterback, Pro Bowler Jameis Winston as one of the best signal-callers in the NFL.
Sunday Arians spoke with Peter King of NBC Sports and essentially told him if Jameis continues to put points on the board when the clock is running down, he just may get that coveted long-term contract from Team Glazer.
Yesterday in his day after presser, Arians expanded on those comments.
"To me, that's how you judge NFL quarterbacks," Arians said of crunch time. "Can they play in that situation? Forget the rest. Right now Jameis, I don't know if there is anybody playing better in the two-minute [offense] in the last three or four weeks."
Well, four weeks ago the Bucs enjoyed a bye week. So Joe looked at the Bucs' final drive of each half of the last three games. Essentially, Jameis was 5 of 6 in putting the Bucs in position to score or did score with the lone blemish being a pick to effectively end the Tennessee Ready II game.
Let's take a look:
---
At Tennessee
First half
Mike Evans' nine-yard touchdown catch capped an eight-play, 75-yard drive with 21 seconds left.
Second half
Jameis is picked with 0:26 left.
At Seattle
First half
Starting at the Tampa Bay-40 with 29 seconds left, Jameis, on three plays, got the Bucs to the Seattle-32 where Matt Gay missed a field goal.
Second half
Jameis marched the Bucs on a 10-play, 75-yard drive that ended with a Dare Ogunbowale one-yard run to tie the game.
---
And of course, Jameis put together touchdown drives on the Bucs' final possessions of each half on Sunday in the win over Arizona.
Arians remarks don't factor in the loss to the Giants, where Jameis directed the Bucs down the field to the red zone until Arians went full-blown turtle and Matt Gay missed an easy game-winning kick.
These late-half, late-game heroics are nothing new for Jameis. He did this often as a younger quarterback. Hell, he won a college national championship against the SEC champion with a last-minute touchdown drive.
Joe fully agrees with Arians. Isn't that what you want in a quarterback? To be able to put a team on his back and put them in position to win when it matters the most?
Joe guesses there's a lot of folks out there who prefer handoffs when the team needs to go 75 yards to stay alive. Those same quarterbacks give a team about as much of a chance to win as Joe has bringing Rachel Watson home from her husband's birthday party.