"How Many Guys, If They Weren't First Round Picks, Would Be In This League If They Did The Things That Go On Here?"
November 19th, 2019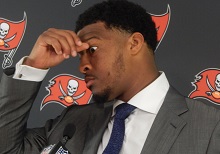 The Bucs should plan on searching for a new starting quarterback.
That was the word yesterday from the former NFL men hosting what Joe has called the greatest football show on radio.
The guys talking in somber tones about the Bucs moving on from Jameis Winston were former QB Jim Miller and ex-Bucs scout and former Jets personnel chief/linebackers coach Pat Kirwan on SiriusXM NFL Radio.
Kirwan said Jameis is not winning the battle to be retained as the Tampa Bay starter for the sixth consecutive season.
So what next?
"You can't be afraid of the future. You can't be afraid that we're going to go draft one or we're going to go sign one," Kirwan said.

"I don't know that I'd go down the road of a mediocre available guy. I'm seeing too much early success by these younger quarterbacks. Go look at the [AFC quarterbacks] that are in contention in the playoffs. Outside of Brady, you go Baltimore Baltimore, Indy, Kansas City, Buffalo, even Oakland, they're young. So this idea that you gotta just keep putting a Band-Aid on it. I'm not so sure I'd do that [in Tampa]. Those are accomplished receivers, a good young throwers, and if you can get to one … I would be thinking that way. Why am I going to get a quarterback that's never done it and he's 30 years old already. No, not going there. That just keeps you in the 8-8 track, which never gets you to where you want to go."
Kirwan was quick to add that the Bucs defense is as big of a problem as Jameis.
"You've had seven games where your defense, and it's not all defense because of turnovers, gave up over 30 points a game. Seven of them. As nice as your offense is, you can't weather that storm. It just doesn't happen that way," Kirwan said.
The Quarterback Whisperer, Bruce Arians, is fantastic at raising the games of players but isn't doing that with Jameis, Kirwan added.
"I know Bruce is a guy that can really get in the mind of a player and help them. And it's starting to sound like he feels like he can't get in there. You can have all the talks you want all week, come Sunday in the middle of the moment, Jameis does not rise above his past; he falls back into his past. … How many guys, if they weren't first-round picks, would be in this league if they did the things that go on here?"
Jim Miller agreed with the final quote block above and speculated a change of scenery is needed for Jameis, and that Jameis might agree.
Miller went on to compare Jameis to Ryan Tannehill and Kirwan added the Bucs should strongly consider signing Teddy Bridgewater as a free agent and drafting a quarterback in Round 2 next season.
Joe certainly agrees that Jameis has not improved under Arians. Considering that's what this season was very much about, that's an issue.