"He's Probably Playing At A Pro Bowl Level"
November 3rd, 2019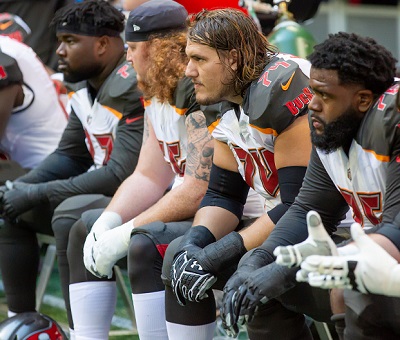 Hearing a detailed assessment of each starting Bucs offensive linemen from the guy in charge of them left Joe no doubt about who the Bucs powers believe is having the best season among that group.
Assistant head coach/run game coordinator (what run game?) Harold Goodwin served up a scouting report on each offensive linemen on Buccaneers Radio last week.
Goodwin was truly glowing about center Ryan Jensen and Alex Cappa, and he praised Demar Dotson's consistency. Yes, Goodwin had positives for Ali Marpet and Donovan Smith, but for them he also worked in Marpet needing work on his pad level and Smith needing to finish plays more consistently and to grind more versus relying on his athleticism.
The most impressive chatter came for Jensen.
"Ryan Jensen's probably having one his best years. He doesn't look like a bowling ball out there anymore," Goodwin said. "These guys used to tell me he used to eat brisket all the time so he was round. He'll tell you himself he was a little overweight last year. But he's playing at a high level; he's probably playing at a Pro Bowl level. Does a good job of directing traffic, getting everybody going in the right direction. And he plays physical, and he's done a better job this year of not getting stupid penalties."
Yes, Jensen has improved, and Cappa certainly has morphed into an exciting prospect; hopefully he'll be back in the lineup today in Seattle.
The Bucs' offensive line is talented, but they too rarely put together complete games as a unit. Too many breakdowns to be better than average.