"He's 'Mr. Entertainment!'"
November 30th, 2019
Podcast: Play in new window | Download | Embed
Subscribe: RSS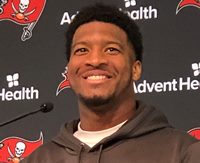 In the past few weeks, Joe has noted that two different national NFL columnists stated there is no better must-see TV in the NFL currently than America's Quarterback, Pro Bowler Jameis Winston.
And now, you can add a famous broadcaster to the chorus.
Speaking on his regular weekly spot with the one and only Chris "Mad Dog" Russo, heard exclusively on SiriusXM Mad Dog Radio, former CBS, ABC and BSPN play-by-play man Brent Musburger chimed in to suggest Jameis is all about sports entertainment.
In fact, Musburger dropped a new nickname on Jameis. He referred to him as "Mr. Entertainment."
Musburger, who is also the Raiders' radio play-by-play man and the voice of VSiN (Vegas Sports and Information Network), which can also be heard on SiriusXM, appears on Russo's show each Friday to cross-promote the two channels and compete with Russo in picking NFL games. (This week he appeared on Wednesday due to the holiday).
Musburger (based on VSiN's numbers) chose the Bucs at even odds over the Jags and sang both the praises and drawbacks of Jameis.
"Alright, I'm going to go with the Bucs, pick 'em, at Jacksonville. Coach Marrone is clearly on the hot seat. The Jaguars are going nowhere. Now I know, Jameis Winston giveth and Jameis Winston taketh away. But — this Buccaneer team is averaging 28 points a game, alright?

"And Winston is averaging 7.8 yards per attempt. He's thrown for almost 400 yards a game. He's Mr. Entertainment! He scores points for both sides. He's got 20 interceptions, six more than anybody else in the NFL.

"This is a feast or famine quarterback. Thanksgiving Weekend, I'm going with the feast! Give me Jameis and the Bucs — pick 'em!"
And a new nickname is born!
Musburger has a sharp eye. Consider:
* He spotted Jenn Sterger in a crowd at a Florida State football game and made her a household name (the blonde on Sterger's right rode her coattails to become a Miami Dolphins cheerleader).
* He cited Miss Alabama as a lovely lass and launched her otherwise dormant modeling career.
* And Musburger famously fawned over Iowa State co-eds in one of his final broadcasts for the four-letter.
In short, Musberger knows talent.
(Permission to use above audio of Musburger talking about Jameis granted from SiriusXM Mad Dog Radio. Hat tip: Eddie Erickson. Musburger can be heard Friday afternoons with Chris "Mad Dog" Russo in the 5 p.m. hour heard exclusively on SiriusXM Mad Dog Radio Channel 82.)