Head Coach Audition Game For Leftwich
November 29th, 2019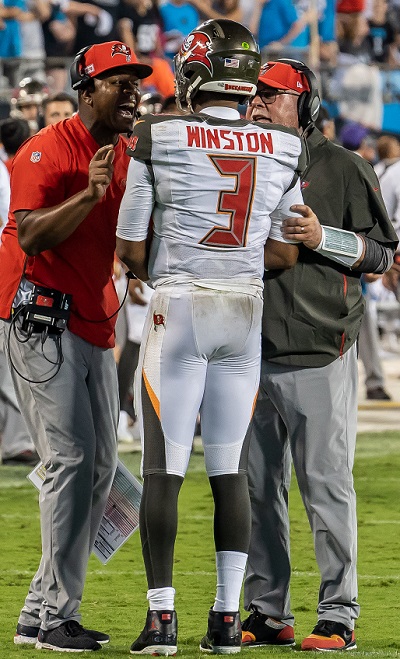 It's the time of year when hot-seat talk picks up for NFL head coaches and hot names emerge as candidates.
And that's one reason why Sunday is a critical game for Byron Leftwich and the Bucs.
A logical person might conclude that Leftwich calling plays for a top-4 offense in scoring and yards, in addition to his endorsement from beloved-in-league-circles Bruce Arians, would make him a hot young candidate for a head coaching gig if he can finish this season strong.
Hey, 40-year-old Matt LaFleur is the top rookie coach in the NFL with his 8-3 Packers. Did LaFleur really have more experience and success than Leftwich when he got the Packers gig?
Chuckle if you wish, but Leftwich, 39, already stated he'd like to be a head coach. And NFL owners have been obsessed in recent years with young offensive-minded coaches.
The Bucs head to Jacksonville on Sunday to face a struggling defense and a team whose head coach likely will be fired. Leftwich played years for Jacksonville. A big showing by the Bucs offense Sunday could open the eyeballs of Jags ownership.
The Bucs still have games against poor pass defenses in Detroit and Atlanta, too, and Indianapolis and Houston aren't exactly the 2000 Ravens.
Joe believes it's a big game Sunday for Leftwich's coaching aspirations. It could put his name in the mix and sometimes that's all it takes.
Now Joe realizes a bunch of Bucs fans will scoff at this notion or cheer the thought of Leftwich moving on so Arians will take over playcalling. But this isn't about what Joe or fans think; it's about what NFL owners might think.