"He Doesn't Interact With Us, Individually, As Coaches Did In The Past."
November 8th, 2019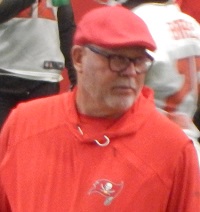 Joe's not sure what to make of this nugget that appeared on the Arizona Republic's newspaper website.
Apparently, the publication had a reporter working in Tampa this week preparing a story on beloved former Cardinals head coach Bruce Arians. He caught up to Cameron Brate who gave this assessment of playing for Arians.
"He's in charge of everything, but he doesn't interact with us, individually, as coaches did in the past," tight end Cameron Brate said. "He pawns off those responsibilities to the position coaches and lets them coach the guys. If he wants his voice heard, he'll definitely express what he wants to get across and hold us accountable. Sometimes, that's tough but it's also what we need. He's definitely brought a positive energy to the team and to the whole building."
Brate played for two head coaches before Arians: Lovie Smith and Dirk Koetter. So he can't bring a ton of perspective, but Joe found it interesting that Brate sees Arians has less interactive than those guys. Heck, Joe had talked to many players under Lovie who said Lovie never said more than a sentence or two to them.
Joe primarily was intrigued because Arians has quipped multiple times this year that he's been bored because he's got such a huge and competent staff and he's not the playcaller as he was in Arizona. So Joe would have expected Arians to spend more time cruising around the team and getting to know players 1-on-1.
Again, this is just one tight end's take, but Brate is a rather perceptive dude and he's also the kind of guy who socializes with teammates.