Clyde Christensen Opens Up On Teaching Jameis, Frustration With QB Turnovers & More
November 20th, 2019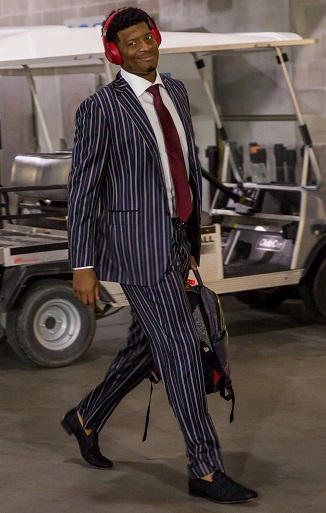 Kudos to Buccaneers quarterbacks coach Clyde Christensen for pulling back the curtain on what's going on behind the scenes to get Jameis Winston to stop turning over the football at an alarming rate.
Christensen treated Buccaneers Radio listeners yesterday to a heartfelt look at the coaching approach with America's Quarterback, as well as  the frustration involved and what it's like to work with Jameis.
On limiting turnovers, the veteran QB coach said he's exhausted several methods to get through to Jameis.
"We obviously haven't found the right answer but we try everything, you know," Christensen said. "It's kind of, I feel like we're rephrasing it in a different way, looking at it from a different angle every single week. We do different things. Some of the new things we're doing, we'll watch the turnovers in the league. There's usually 15 or 16 quarterback fumbles a week in this league, which is shocking to me, even. You know, you just don't think that. But balls are getting' popped loose and guys are careless with the football and it's usually the teams that are losing. It's not the Bradys and Brees's and Green Bay.

"So we look at those, what caused them, how they were preventable. We do the same with the interception reel. We watch often [Jameis'] interceptions; what could we have done different. You know, and then we just talk about it a lot.

"But we haven't gotten them fixed. It has to get fixed. And he knows it. I know it. We all know that. And I think the hardest thing to teach in this league is a quarterback who can get himself out of trouble and make some plays. We struggled with it with Andrew [Luck] on it a lot — when to give up on a play. When do you cut your losses and get rid of the ball and punt it? These guys are wired such that it's hard for them to give up on a play. You know, I get frustrated like [Jameis] does, like fans do, like everybody does. …

"That's a hard teach, just because of how they are wired. It's hard to just give up on a play. It's a skill that has to be learned. We should be learning it now. It's the fifth year. We're not a rookie any more. And slowly but surely I think he's got better on the protection thing and not taking the sacks and just being able to throw the thing out of bounds.

"But we still have the turnovers. We had the four this week. And they're not all on the quarterbacks. Ours are unit-wide, but certainly, you know, our [quarterback] part is significant and we have to cut'em out."
Christensen explained that the Bucs closely dissect and track the cause of each turnover and assign blame in order to gauge quarterback development and improvement. That's likely a reason Bucco Bruce Arians was able to put a number this week on the 18 interceptions thrown by Jameis, saying he thought 10 were on the QB, though Christensen didn't confirm a number.
Every interception is broken down into whether it's a bad decision, mechanics or accuracy, etc., or a combination, he said.
On Jameis and interceptions, he said "we've improved but only minimally. We've got to make a big step. … He's throwing the ball extremely well. He's throwing the ball accurately. His [interceptions] have been more on the decision-making."
Christensen went on to say the great quarterbacks know a level of patience Jameis has yet to discover. "It doesn't have to happen on the first drive."
Asked about Jameis' mental game, Christensen spoke of Jameis' high intellect, something he's been known for since his college days.
"He's an extremely smart guy," Christensen said. "Remembers things, you know, I think probably the biggest positive for him is just his mind and his memory. He remembers everything. He remembers film. He remembers pass pays. I think his memory and his recall of things is the thing that's probably most impressive."
And those smarts are combined with an extreme work ethic (5:30 a.m. at headquarters) and very humble, natural leadership.
"He's been delightful," Christensen said. "He wants to win. He wants to be good. He wants to work. Probably, if we've had conflicts, it's him overworking. Just being able to rein him in, you know, more isn't always better in anything, but certainly in quarterbacking, more isn't always better. So he's really been a pleasure to work with that way.

"His humility is attractive to people. I think that's probably the thing you don't realize. He's an extremely humble guy. Guys respond to that. Guys know that he's working hard. Guys know that he's putting in the time. … Players respond to him. They like him personally. It's not all about him. He doesn't look for extra special preferential treatment of any kind. You know, players respond to that a lot."
Joe hears this stuff from Christensen and it reinforces that Jameis, through 64 NFL starts, likely has hit his ceiling as an NFL quarterback. The Jameis we're watching likely is as good as he'll get.
If you bust your ass daily as a veteran quarterback, and you're are a brilliant guy alongside proven coaching and superior receivers like Jameis is, then there's a great chance what you're producing is your very best.
Is it enough? Decision Jameis looms.