Chris Simms: Blame Todd Bowles
November 5th, 2019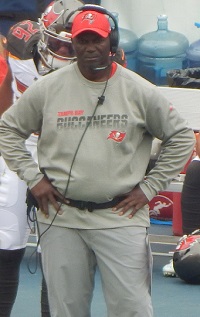 Yes, Todd Bowles is responsible for this garbage Tampa Bay defense; he's the defensive coordinator.
Fun fact: Bowles' defense in New York last season allowed an average of 30 points over the past 10 games of 2018.
Sound familiar?
Bucs fans were told Bowles is one of the great defensive minds in the game. He knows how to get the most out of players, Bucs officials said. Still buying that? Perhaps you do — even though the Bucs defense is getting worse.
Joe has seen no evidence of Bowles' genius as a whole through half a season (and likely an offseason that gave him a heavy hand in choosing players.)
Joe has found a kindred spirit in former Bucs QB Chris Simms, who blasted Bowles this week on his "Unbuttoned" podcast for being too-old-school minded about stopping the run.
"The travesty" of the Seahawks game, Simms said, was Bowles not trusting his talented defensive linemen enough to stop the run and, subsequently, leaving rookie cornerback Jamel Dean on "Revis Island" against possibly the best deep-ball thrower in the NFL.
Endless Bucs blitzing was a terrible idea, Simms said, "stupidly playing too much man-to-man was the biggest issue" and unfair to Dean, who Simms said was the cornerback under the most pressure in the NFL on Sunday.
It was the wrong game plan in general, Simms said. See the graphic below that illustrates how no team has blitzed like the Bucs did Sunday in at least 3 1/2 years.
"I don't even blame the secondary players for the Buccaneers. I blame Todd Bowles for that defense and what he did," Simms said. "Always put the pressure on the money of your defense. And their money is they have Suh, and Vita Vea who's 340 pounds, and [Jason Pierre-Paul] and Shaq Barrett, and they have these guys. That's the strength of their team. How bout you like let them see if they can stop the run, first. Ok. And you have two middle linebackers that are good, too. What are we like worried about? Call their bluff, at first."
Simms estimated the Bucs ran a man-to-man defense on 63 of 68 offensive plays against the Seahawks, which led to Russell Wilson not having to think when he broke the huddle.
The Buccaneers blitzed Russell Wilson on 76% of dropbacks, the highest blitz rate in a game in the NGS era (since 2016).

Wilson finished 19/32 for 221 yards & 3 TD against the blitz, having been pressured 5 times on 35 blitz dropbacks (14% pressure rate).#TBvsSEA | #Seahawks pic.twitter.com/f9DdxCtwkL

— Next Gen Stats (@NextGenStats) November 4, 2019