"By Far His Best"
November 25th, 2019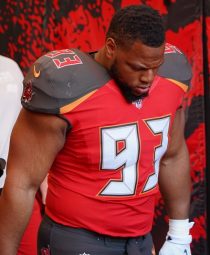 Though 11 games, the stats on manbeast defensive tackle Ndamukong Suh don't resemble what NFL fans have come to expect from him, except for Suh answering the bell for every game and scoring two touchdowns.
Stats can be deceiving and they are a lot of fun. Every coach and general manager Joe has encountered points to stats for defensive line, and then Joe finds the same guys typically are quick to discount stats when it's noted that said player isn't racking up numbers like he used to.
Suh hasn't batted down a pass or forced a fumble this season, and he's got just 1 1/2 sacks, four tackles for loss and his tackling totals are significantly down from his previous seasons. But Bucs officials are seeing a high-performing football player.
Bucco Bruce Arians was asked today if yesterday was Suh's best game of the year. The head coach did not hesitate.
"By far, yeah," Arians said. "He was all over the place, run and pass. Yeah, that was by far his best and he's been really good all year."
Joe is not throwing darts at Suh, just looking at Suh through a different lens than a lot of people.
Suh has been solid, and it seems like he's been a great influence on those around him. He's also turns 33 in January and will want another hefty contract for next season, if not a multi-year deal.
He'll be part of a long list of pending free agents on a football team that will be in need of upgrades and bold decisions if it wants to be a contender.
Joe is very curious to see how Suh plays over the next five games and how the Bucs approach the defensive line as a whole, where Shaq Barrett, Jason Pierre-Paul and Carl Nassib also are poised to hit the market.