Bucs On Pace For Three Fewer Sacks Than 2018
November 17th, 2019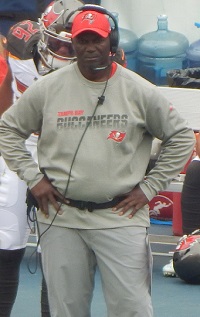 Speaking after today's game, Bucco Bruce Arians was unhappy about the Bucs' nearly invisible pass rush.
Joe found it especially disturbing after the Falcons hammered Drew Brees to the turf six times last Sunday.
After today's one-sack, three-hurry effort, the Bucs are now on pace for 35 sacks for this season. Last year, they had 38, which was tied for 19th-most in the NFL. Keep in mind the 2019 Bucs have played a hefty total of backup quarterbacks.
The Todd Bowles defense with the Jets last season allowed an average of 30 points per game over its last 10 games. Through 10 games this season, the Bowles Bucs defense is getting rolled worse than that.
Remember all summer long when Joe warned fans that Bowles' 3-4, blitz-happy defense wouldn't mean a better pass rush because the NFL just doesn't work that way. Also, Joe scoffed at the notion that Bowles getting hired would turn Lavonte David and Devin White into ferocious pass rushers.
Just like they did entering the 2018 draft, the Bucs will need to draft a quality pass rusher in the 2019 draft. It's just too damn hard to win in a passing league with an inconsistent pass rush.