Bruce Arians Further Dissects Both Jameis Interceptions In Atlanta
November 27th, 2019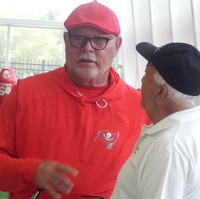 Bucco Bruce Arians shared more yesterday about Sunday's two cringe-inducing interceptions from America's Quarterback, Jameis Winston.
The mere thought of those first-quarter picks has Joe yearning for a few Dunder & Blixem from Big Storm Brewing, Co.
The timing of the plays potentially was devastating, but the defense bailed out Jameis allowing just seven points from those two giveaways in Bucs territory.
Arians took fans a little deeper into his turnover thoughts on Buccaneers Radio.
"I give [Desmond] Trufant credit, you know, he made a great play," Arians said of the opening-drive pick. "We've run that play quite a few times this year, and he studied his tape and undercut it when Mike [Evans] was running a skinny post. Mike didn't run a bad route; [Trufant] just undercut it. And Jameis didn't quite see him soon enough. He was trying to look the safety off, trusted Mike would be in the hole and Trufant just made a heck of a play."
Asked to explain Jameis' jump-pass interception on third down deep in Bucs territory two drives later, Arians served up an explanation for the average Joe, "It was kind of like a don't-do-that. Never do that again."
Joe is so grateful for the Bucs defense tightening up. The Falcons led 10-7 after the first quarterback, but a 17-7 lead might have changed the entire game.
---
TAMPA TWO is an enlightening show today with Hall of Fame icon Derrick Brooks and Ira Kaufman presented by Caldeco Air Conditioning & Heating. Another production from The Identity Tampa Bay and Joe. Enjoy!!