Bruce Arians: Goals For Evans And Godwin Should Be 1,500 Yards Each
November 27th, 2019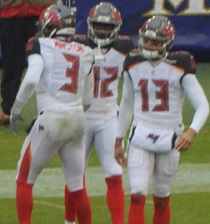 Joe is old enough to remember the eye-popping and ridiculously good 1995 Lions offense.
Detroit had legendary Barry Sanders in his prime rushing for 1,500 yards. And No. 2 wide receiver Brett Perriman caught 108 balls for 1,488 yards while top-dog receiver Herman Moore hauled in 123 balls for 1,686 yards and 14 touchdowns.
How did they lose games? Bad defense and turnovers.
Sound familiar?
Those Lions finished 10-6 and lost in the Wild Card round 58-37 to the Eagles.
Could Bucs receivers Mike Evans (1,043 yards, 7 touchdowns this season) and Chris Godwin (1,071, 9 touchdowns) match what Perriman and Moore did 24 years ago?
 Bruce Arians told Buccaneers Radio this week that both Evans and Godwin should have a very high bar for themselves for the remainder of the season.
"I think for them right now, goals for both of them should be at 1,500 [yards]," Arians said. "We've got a lot of football left and I could see both those guys having 100 each week."
Arians added that Byron Leftwich is making life easier for Evans and Godwin's versatility is a killer for defenses.
"Chris plays outside, he plays inside," Arians said. "Byron's doing a much better job of moving Mike around so people can't say, 'Ok. We're double-teaming he's on the back side and try to take him out of the game.'"
The head coach added that using a lot of four-receiver sets was effective freeing up Evans and Godwin against the Falcons, and more of that could be on the way.