Warren Sapp Troubled By Defense, Impressed By Jameis, Tension With Suh, & More
October 2nd, 2019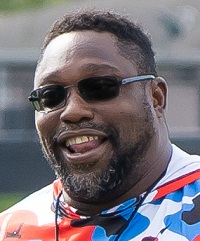 Legendary No. 99 was hanging out with Bucs fans and eating pulled pork in Los Angeles to watch his beloved Bucs on Sunday.
And he had plenty to say about them on national radio yesterday.
Love him or hate him, Warren Sapp is one of the very best football interviews in the game.
"I think Jameis learned Week 1 after throwing the pick-6's, because when you look out on a presnap read and there's Richard Sherman on a running back and the running back's not on a slant, you don't throw it out there," Sapp told The Rich Eisen Show. "And then you throw a pick-6 on a screen? I think Byron Leftwich and Coach [Arians] finally got to him, 'Hey, come our way, we'll show you. And then we get in a game [Sunday] and our damn kick returner [T.J. Logan] wants to return. There's no more kick returns in the NFL. Can anyone get that through their head? Just catch the ball, kneel it down, they're giving you five yards, you're on the 25. What is the problem? He wants to return the ball to the 10 yard line. We're backed up. Now my quarterback is under duress and he throws a pick-6.

"That's when it happens whenever a special teams — and everybody don't come together for Jameis. Because when everything is moving on track, he's a great quarterback. I love what he does. But the Bucs have to figure out a way to just slow down [teams] on defense. That defense? We're loose. I mean, the Rams are going up and down the field. If we don't have no offense, that game gets away from us."
Sapp went on to say he likes the attack mindset of defensive coordinator Todd Bowles, but results still have to come.
On a fun note, Sapp said he and Ndamukong Suh are not on friendly terms.
Sapp, during his television days, was a long-time critic of Suh, and the Bucs icon hared a story that he recently had his knee drained at One Buc Palace and Suh needed to reach over him to get his helmet.
Suh did that with a simple "excuse me," grabbed the helmet and acted as if Sapp was a stranger in bus depot, Sapp said. Asked by Eisen if he wanted to patch things up with Suh, Sapp said, "No. We good. You know I'm not that guy. It is what it is."