Arians: It's More Than Just One Win
October 2nd, 2019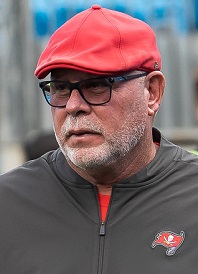 All wins — and losses — are not created equal.
Joe supposes they would be if a football team was filled with inhuman life forms. But these are thinking, passionate and, in many cases, violent performers on the roster. Emotions play a big role.
And that's why Sunday's clobbering of the Rams in Los Angeles was so spectacular. Not only did the Bucs bounce back from a humiliating, soul-sucking home loss to a questionable team, they dropped 55 on the undefeated, defending NFC champs.
Bucco Bruce Arians wasn't talking about the Giants loss on his radio show yesterday, but he was talking about the impact of beating the Rams like the Bucs did. Arians is not taking the it's-just-one-game route that many coaches would.
"To win a game against that opponent on the road, for a young team, there are certain wins that mean more to them as far as their belief in each other and the system and everything else," Arians said. "Those can go a long way."
From your lips, Coach, the football gods' ears.
Joe is going to hope upon hope that the Rams win is a real springboard. No, that doesn't mean all good will be erased if the Bucs lose to the Saints in New Orleans on Sunday. But the Bucs truly should be able to build on what they accomplished offensively in L.A.
And why the hell not? This team should know it's capable of four quarters of punishing offense, and all the offensive weapons are healthy.
Go score 27 points in New Orleans and find a way to make it enough for a "W."