Two Young Pro Bowl Cornerbacks Traded … Not To The Bucs
October 15th, 2019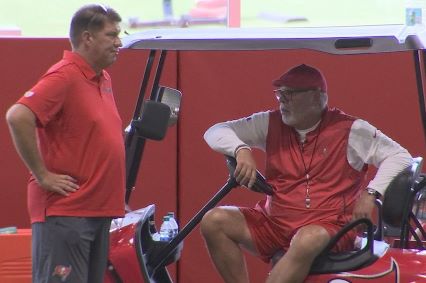 Nahh, we're good.
This afternoon, two-time Pro Bowl Rams cornerback Marcus Peters, 26, was moved from the Rams to the Ravens for linebacker Kenny Young, a fourth-round pick last season, plus an undisclosed 2020 draft pick, per NFL Network.
And tonight, reports say another two-time Pro Bowl corner, 25-year-old Jalen Ramsey, was dealt to the Rams for two — TWO! — first-round picks and the Rams' 2021 fourth-round pick.
The Bucs, for now, are good to go with Vernon Hargreaves, Carlton Davis, M.J. Stewart, Sean Murphy-Bunting, Jamel Dean and Ryan Smith. Anyone remember E.J., Leonard, Danny and LeQuan?
No way Joe would have dealt for Ramsey — too risky that he goes all Antonio Bryant and the draft price tag was too high. But Peters would have been an upgrade in the Bucs' cornerbacks stable. So Joe is weeping a little tonight.
Still, there's time for Bucco Bruce Arians and Jason Licht to make a move to bolster their weakest unit, one of the weakest cornerback groups in the NFL. That's what teams trying to win usually do.
Joe sure hopes to wake up tomorrow and find the Bucs traded Hargreaves for a sixth-round pick that they'll use to package with a fifth to get a decent veteran cornerback.
And on the subject of cornerbacks, Joe finds it interesting that the Panthers' 11th-ranked and surging defense is getting by with Javien Elliott as their top nickel corner.