TV Map For Bucs-Titans
October 26th, 2019
Befitting two NFL teams on the cusp of circling the 2019 NFL season drain, not a whole lot of folks across America will get to view the Bucs-Titans game without a satellite dish or a trip to a bar.
The Bucs are 2-4. The Titans are 3-4 and just benched their gimmick quarterback, likely for good. Not a lot of reasons for Americans to drop the remote and watch this game for entertainment, hence, it is sort of hidden by the powers that be at FOX and the NFL.
Mostly, the only folks who will get the watch the game over their local FOX affiliate's airwaves will be residents of Florida and Tennessee. It appears by the map below that no TV station outside of those two states will broadcast the Bucs-Titans game. So unless your cable company or your digital antennae can pick up a local FOX station from Florida or Tennessee, it's off to the bar you frequent unless you have NFL Sunday Ticket.
Of course, Joe always recommends local fans take in the Bucs and the full slate of NFL action at Abe's Place in Clearwater. The menu rocks.
The world-renown Kevin Kugler will be joined by former NFL linebacker Matt Millen in the broadcast booth.
As always, the map is courtesy of 506sports.com.
FOX broadcasts: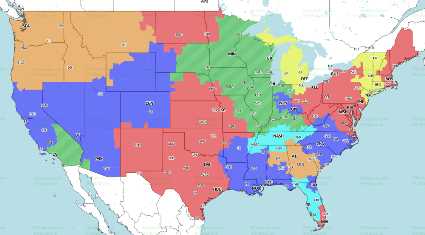 Light Blue: Tampa Bay @ Tennessee.
Red: Philadelphia @ Buffalo.
Green: LA Chargers @ Chicago
Yellow: NY Giants @ Detroit
Brown/Orange:  Seattle @ Atlanta
Blue: Carolina @ San Francisco (LATE)