"Three Or Four Sacks He Sacked Himself"
October 14th, 2019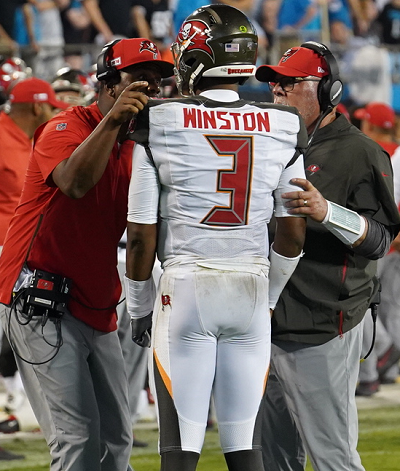 If you've listened to Bucco Bruce Arians throughout his Tampa Bay tenure, you'll notice he finds America's Quarterback, Jameis Winston, to be proficient at the self-sack.
No, that's not an official NFL statistic, stat freaks. But it can be translated as the quarterback held the ball too long or didn't take the running room he had to avoid a negative play.
Once upon a time in 2018, Jameis was an excellent scrambler, both in his execution and decision-making.
Through six games this season, Jameis is averaging a shade over six yards per game rushing (2.1 yards per attempt). Last year, Jameis was at just under 22 yards per game scrambling at 5.8 yards per rush. That's a huge difference and it's obvious that somebody or something got in Jameis' head about scrambling.
Frankly, Joe would take any answer to that mystery from any Bucs official at face value; Joe's doubts the whole truth will ever come out.
Speaking today at his news conference, a feisty Arians threw around a lot of blame for the Bucs turnovers, and added he won't shy away from blaming his quarterback, too. He also went on to say roughly half of the seven sacks Jameis absorbed are on him.
"Three or four sacks he sacked himself," Arians said.
"…Throw it away; it's very simple."
Joe cannot explain why Jameis isn't playing the mental game he's being coached to execute.
Surely, Arians and his staff know how to coach quarterbacks. And surely, Jameis is intelligent and he's known for being a quick study. So Joe can't accept a Jameis isn't coachable argument.
The only thing Joe can conclude is that game pressure sometimes gets to Jameis and that leads to his wild swings of inconsistency. And that's probably something won't change anytime soon.