Sweating Derrick Henry
October 24th, 2019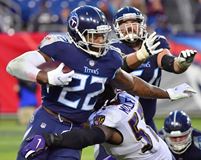 Is Titans running back Derrick Henry a weapon? You bet.
(BTW, why don't folks use the first-syllable abbreviation for Titans like people use for the Cardinals or Jaguars or Vikings? Wouldn't this abbreviation make the world just a little more pleasant?)
Dude is a beast. But is he a beast that cannot be tamed? Bucs coach Bucco Bruce Arians seemed to think that in his remarks yesterday to the local pen and mic club.
"Yeah, because this cat's really fast," Arians said. "[If] you give him a crease, he can take it to the house. He's a different – more like [Todd Gurley] – you've got to get him, and get him before he gets started. He's a really good outside-zone screen runner, and they play to his strengths."
Let's put it this way: Joe isn't sweating Henry. The Bucs have the best rush defense in the NFL. And they've shut down Saquon Barkley, Christian McCaffrey (once, and much of the second duel), Todd Gurley and Alvin Kamara.
Is Henry that much better than those guys? Nope.
Look, if you shut Henry down, then you only have to worry about Ryan Tannehill.
Uh, oh. Joe just remembered: He's a backup and backups feast on the Bucs, nevermind a team with an insulting pass defense.