Relentless
October 13th, 2019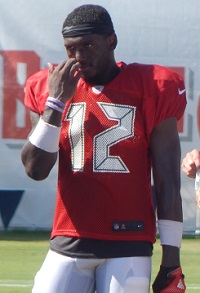 After six games, Chris Godwin has 43 catches for 662 yards and six touchdowns.
Read that again.
Pull out the trusty calculator and those numbers extrapolate to 114 caches for 1765 yards and 16 touchdowns. And Godwin has caught a whopping 78 percent of balls thrown his way.
Through six games, he his without question the Bucs' best receiver. Mike Evans has hauled in less than 50 percent of his targets. And fans watching the Bucs' London burial today on NFL Network heard Michael Irvin and Kurt Warner heap a healthy share of criticism on Evans.
Yeah, it was a load of garbage time yards for Godwin today. But that's not his fault, and there were a good chunk of contested catches. And he blocks. And he grinds through injuries.
And he's going to want a year-early contract extension after this season, the kind great third-year players usually command.