League Leader Jordan Whitehead
October 8th, 2019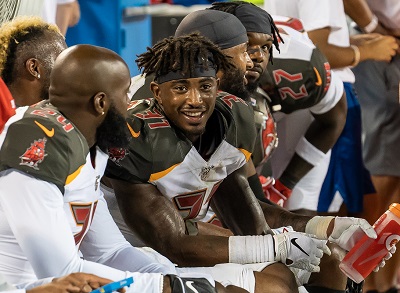 When Bucco Bruce Arians called the Buccaneers' secondary "soft" this week, you know there was one guy he was not referring to.
That was certainly hard-hitting and improving second-year safety Jordan Whitehead, who delivered a crushing hit on Alvin Kamara early in the first half and played a decent game and certainly an aggressive one.
As Joe continues to search for positives on this somewhat depressing Tuesday, Joe has discovered that no safety in the National Football League has more passes defensed (an official NFL stat) than Whitehead. His six "PD's" lead the Bucs and rank tied for third-most in the NFL.
For perspective, current backup safety Andrew Adams led the Bucs with 9 passes defensed last season. In 2016, when the Bucs were last a good team, Seahawks Pro Bowl alternate safety Bradley McDougald led Bucs safeties with 10 passes defensed, as cornerback Brent Grimes led the NFL with 24.
Darrelle Revis led the Bucs with 11 passes defensed in 2013, and the year before it was Rondé Barber, during his line season at safety leading the Bucs with 13.
When Bucco Bruce Arians is asked about Whitehead, he just about always replies that Whitehead's production is excellent, though he has lots of room to improve.
Joe will take that evaluation of a 22 year old safety all day long.