Last Call For The No. 1 Overall Pick
October 15th, 2019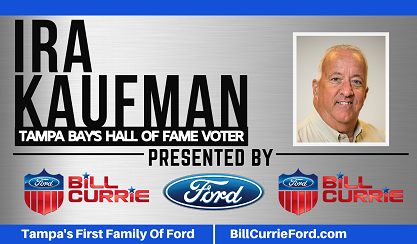 BY IRA KAUFMAN
The Bucs had a tough decision to make in the spring of 2015. They had to choose between a dynamic gunslinger and a savvy game manager.
They went with Jameis Winston at the top of the draft ahead of Marcus Mariota and felt good about the pick. More than four years later, the Bucs and Titans are coming to grips with the very real possibility both quarterbacks are destined for the dustbin of NFL history.
While Bruce Arians is sticking with Winston, for now, Tennessee coach Mike Vrabel is waffling about his starter under center against the Chargers.
The common denominator in this depressing spectacle is Titans GM Jon Robinson, who served as Jason Licht's most trusted sounding board when Tampa Bay prepared for the critical 2015 draft.
"I will evaluate with Jon and the coaching staff," Vrabel said to the Titans media corps. "I will let you know as soon as I figure out and do what is best for the team."
On Sunday, Vrabel benched Mariota for Ryan Tannehill in the third quarter following Denver's second interception, which dropped Mariota's passer rating for the day to 9.5. That's a little worse than the absurd number Winston fashioned in the opening half against the Panthers in London.
Some national media pundits have already closed the book on Winston, who takes a 23-37 record into the bye week. In the past 3 years, the Bucs have won only 8 of his 28 starts.
"Moving forward, the Buccaneers are going to have to find a new quarterback," says NBC analyst Rodney Harrison. "Jameis is absolutely too careless with the football. Everything has to be a big play or a touchdown."
That's the nutty problem in a nutshell.
Winston still thinks he's in Tallahassee, playing for a team that was almost always more talented than its opponent. The Seminoles bailed him out of poor first-half performances time and again during that sophomore season.
7 Deadly Sins
In retrospect, the 2015 draft looks like a disaster at the quarterback position.
Only seven were selected overall, with Garrett Grayson, Sean Mannion, Bryce Petty, Brett Hundley and Trevor Siemian filling out the seven deadly sins.
You see any Deshaun Watsons in that group?
"When you have a franchise-type quarterback, it gives the whole organization confidence," says former Buc quarterback Chris Simms, now working for Pro Football Talk and NBC Sports.
The Titans and Bucs are each 2-4, not exactly brimming with confidence.
Winston's completion rate is 60 percent and Mariota is at 59.1 percent, not acceptable given today's pass-friendly rules. They share the league lead for most times sacked (25) and Winston's 10 interceptions are topped only by Baker Mayfield.
Where's the quarterback whisperer? He's busy making excuses for a quarterback who shouldn't need them in Year 5.
Arians has been very careful to treat Winston with a gentle touch at the podium. Let's hope it's a different story behind closed doors.
Last Call
At this point, with only 10 games remaining to quell the concerns of Arians and ownership, Winston already has one cleat out the door. If he hits the free-agent market in 2020, Winston will add yet another depressing chapter to a franchise tale of woe that began in 1976.
Yes, the Bucs have never offered a long-term extension to a quarterback they've drafted. If Winston wants to reverse that stunning trend, he must change his behavior in the moment/second of truth — when plays break down and he invariably returns to his garnet and gold mindset.
Since the London debacle, you can't help but notice that people are talking about Winston. Most of 'em aren't talking very nicely. The bye week gives him plenty of time to reflect on Monday's headline on the popular web site Deadspin:
"The turnover king has returned."
The Bucs don't want to start all over at quarterback. They want to believe Winston is the guy who will lead them back to glory, but he's not going along with the plan.
Next up: the Titans in Nashville, where Mariota is hanging by a thread. [Editor's note: It was reported Tuesday Mariota has been benched for the foreseeable future.] Two quarterbacks passing through a Sunday afternoon, exchanging hugs and best wishes.
By March, there's a good chance they'll be exchanging new addresses.