Jason Licht: Shaq Barrett's Numbers Aren't Soft
October 9th, 2019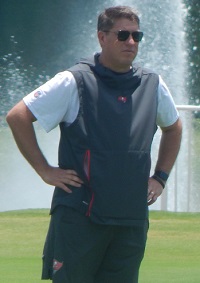 Tampa Bay general manager Jason Licht served up a fresh take on the Buccaneers' top defensive player.
Linebacker Shaq Barrett was neutralized in New Orleans, but he's still the NFL sacks leader with nine, two better than beastly Cleveland pass rusher Myles Garrett.
Licht noted on the Buccaneers Radio Network before the Saints loss that Barrett isn't racking up cheap stats.
"He's not falling on a quarterback who fell down. He's really making things happen," said Licht, adding that Barrett is "such a humble guy."
Spoken like a true film evaluator.
Assuming Barrett doesn't slither quietly into irrelevance through the rest of this season, his film will be among the most scrutinized by pro personnel directors across the league. Barrett turns 27 in November and he is poised for a monster new contract after his one-year deal with the Bucs expires.
Talented young pass rushers always get paid, and if Barrett can find his way to 15 sacks, he will break the bank somewhere. The big question among the personnel suits will surround what Barrett's true value is.
Joe doubts the Bucs will break the bank for Barrett. They passed on so many expensive pass rushers this offseason, in addition to college pass rushers, Joe can't say now that re-signing Barrett will be a priority.