Earl Watford Talks Opportunity, Cappa, "Exhausting" Trip
October 12th, 2019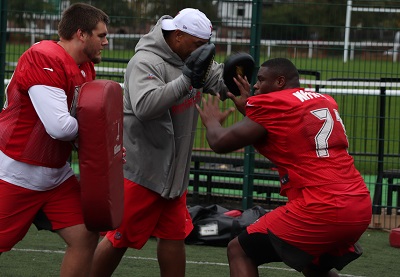 A handpicked and trusted Bucco Bruce Arians guy will take center stage tomorrow against the Panthers in England.
After practice under gloomy skies yesterday, he talked to JoeBucsFan.com.
Joe dispatched former manbeast JoeBucsFan Zach Seifter to chat with versatile veteran offensive lineman Earl Watford (known as "The Earl of Watford" to Ira Kaufman Podcast fans). Watford, 29, made 22 starts through four seasons with Arians' Cardinals (2014-2017) after Arians made him a fourth-round pick in 2013.
What's interesting about that 2017 season is Watford began it as a free agent signing of the Jacksonville Jaguars, but he coudn't beat out ex-Bucs guard Patrick Omameh and was cut in September before the Cardinals scooped him back up.
He was with Cleveland last year before signing a near-veteran-minimum contract with Tampa Bay this season. Arians has touted him as a true pro who knows how to play across the offensive line and will be ready when called upon.
And now is his time. Starting RG Alex Cappa broke his arm Sunday.
"He's a tough SOB, I can tell you that," Watford said of Cappa. "Great young player. Sucks that he's out for a little bit, but that gives me an opportunity to go out there and play. You know, I'm there doing everything I can for the team. We'll see where it goes from here."
Watford said the Bucs "had a great week of preparation" leading up to the Panthers game, including yesterday's practice after what Watford called an "exhausting" trip/post-trip routine to get to England on an overnight flight Thursday-to-Friday.
"No special recipe against the Panthers," Watford said of the offense's plan for Sunday. And for him, it'll be business as usual as he gets his first snaps of his seventh season. "Work my ass off and play football. Do everything I can to win every play," Watford said.