Bruce Arians Credits "Driving Range" For Jameis Accuracy
October 4th, 2019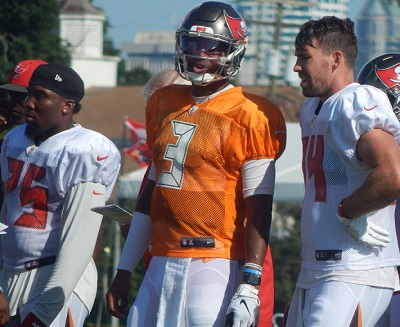 Don't worry, Jameis Winston lovers, Joe is not revisiting when your franchise quarterback risked his career in May by allowing a trick shot golf artist to drive a ball off his head.
Could it be as simple as America's Quarterback simply has better core fundamentals, hence he's playing better?
Bucco Bruce Arians seems to think so.
Speaking on SiriusXM NFL Radio this week, Arians answered a question from co-host Zig Fracassi that started with "correct me if I'm wrong." Fracassi went on to say Jameis' footwork was too often all over the place and he had a challenge with a simple "step forward and throw" to be consistently accurate.
Arians didn't correct Fracassi's assertion and pointed to the basic skills work demanded of Jameis.
"I gotta give a lot credit to [quarterbacks coach] Clyde Christensen. I call it the driving range. Our quarterbacks go to the driving range every day on fundamentals for about 30 minutes," Arians said. "And then Byron [Leftwich] handling the mental part and Clyde handling the physical part, he's getting extremely well coached and it's really showing."
Jameis' improved play and consistency through the past three games is obviously due to a combination things. It's hard for Joe to boil it down to just better fundamentals. But it really doesn't matter. This year is all about results for Jameis and Arians taking him to a higher level.
So far so good. Now Jameis has to keep stacking up quality games. Make five of the next six strong, Jameis, and that probably puts the Bucs in the playoff hunt and gets you a 2020 contract.