Bucs Downgraded And Got Burned
October 13th, 2019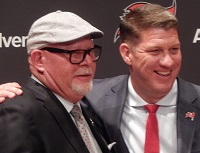 This one is on Bruce Arians and his chosen personnel guru/yes man Jason Licht.
They made the conscious decision to dump a solid punt returner in favor of an inexperienced guy who hadn't showed any real promise at the position.
Bobo Wilson entered today's game averaging 3.3 yards per return, which placed him among the worst full-time returners in the NFL. After today, Wilson is now scraping the bottom of the barrel at 2.8 yards per return, and he fumbled and wasn't sure-handed overall against the Panthers in England. And the Bucs kept trotting him out there.
Wilson checks in at No. 25 with an average of 3.3 yards per return. His longest is 11 yards.
Former Bucs punt returner Adam Humphries averaged 8.3 yards per return during his Bucs career — and wasn't exactly a stud at the position.
Kick returner? Arians' handpicked ex-Cardinals guy isn't special.
Return yardage is valuable hidden yardage. For a team that claimed it was reloading versus rebuilding, the wet the bed at the returner position.