Brate Future Tied To Jameis Winston?
October 23rd, 2019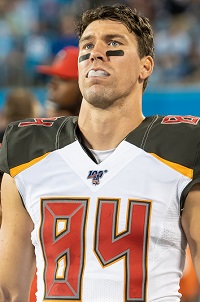 Will the Bucs pay Cameron Brate $6 million next season to be a very part-time tight end?
Brate has played about one third of the offensive snaps in 2019, and he has not played special teams.
That makes Brate a very expensive part-time tight end. He's a nice luxury, but that luxury seems awfully wasteful on a losing football team.
So what should the Bucs do with Brate?
The easy answer is to deal him before next Tuesday's league trade deadline. But without knowing what he would fetch in the market, Joe can't go there.
What intrigues Joe about Brate is how his future might tie to Jameis Winston. If America's Quarterback continues his inconsistent and overall subpar play, then what a gift hard-working Brate could be a for a rookie quarterback. Young QBs often are comforted by relying on tight ends, and if the Bucs don't bring back Jameis, they'd have the cash to keep Brate around.
If Jameis returns next season, it's highly unlikely it will have anything to do with Brate, so the Bucs could deal him in the offseason when Brate's value might rise if he stays healthy.
In the meantime, Joe would like to see Brate used a little more often. Perhaps Bruce Arians really doesn't think Brate is the same dangerous tight end of 2016 and 2017?