Arians Wants More Maturity From Jameis: "Right Now He's Still Trying To Make Plays All The Time"
October 2nd, 2019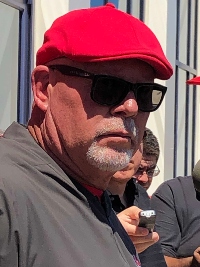 Joe's handwritten in-game notes from Sunday have more all-caps areas than ever before.
Many are celebratory; some are phrases like "ROUGHING THE SNAPPER" and one there's one that's not appropriate for children regarding the fair catch interference penalty on Sean Murphy-Bunting in punt coverage against the Rams.
There's also one that reads "CAN'T TAKE THAT SACK!"
The latter refers to the Bucs having 3rd-and-13 with 2:45 remaining in the first quarter leading 7-0 at the Rams-40. (For Matt Gay, that's field goal range, which he proved later in the game). Jameis Winston then drops back five steps out of the shotgun, and holds the ball four seconds before starting a scramble that he aborts.
Sack eaten. Field goal range gone.
Joe only brings this up because Bucco Bruce Arians talked about Jameis last night and how he's handling pressure. Arians said Jameis is doing a great job with pass rushes but he wants to see safer decisions at times.
"He's moving around in the pocket really well. He did take another sack [Sunday]. I like [him to] just throw the ball away sometimes. Right now he's still trying to make plays all the time," Arians told Buccaneers Radio.
That last line from Arians really made Joe squirm. That's exactly what Arians has said the Bucs are trying to coach out of Jameis; help him understand he doesn't have to be Superman. And the previous staff was on the same bandwagon.
Jameis, though, is playing well. Through four games this season, he's got one major clunker, an ok game and a couple of impressive outings. That's a very solid report card.