A Confidence Step Back For Ronald Jones?
October 17th, 2019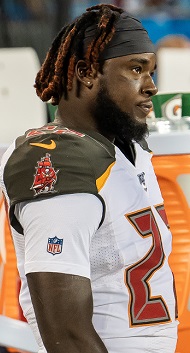 The Ronald Jones second-quarter touchdown run against Carolina was a thing of beauty on Sunday, raw talent, poise and strength on display.
And what was his reward?
He got one more second-quarter carry. That was it. Jones finished the game with four carries.
This stunned Joe considering all the effort Bucco Bruce Arians made this offseason to build up the confidence of Jones. Joe surely would have thought that great, shifty TD run would have gotten Jones the next series at running back, but it didn't.
Even Derrick Brooks, who isn't one to speak up about personnel decisions, said he believes Jones should get the ball more in the latest edition of TAMPA TWO. And Brooks was disappointed Jones wasn't seen more against the panthers. You can watch that below in its entirety.
Obviously, Arians and his team have done a good job developing Jones from a scared rookie to a productive rusher at 4.4 yards per carry and two touchdowns this season. Joe gives coaching a load of credit. Joe just hopes the Bucs make the move soon to give Jones as a game as the bellcow back. It would be nice to know how he responds.
Can he be effective in that role? Can he break one? Can he take the punishment? All good questions to answer before 2020.
For now, hopefully Jones' confidence remains high after so little use following his special touchdown.
---
Hall of Fame Bucs legend Derrick Brooks dives deep on the Bucs' loss to the Panthers with Tampa Bay's only Hall of Fame voter, JoeBucsFan.com columnist Ira Kaufman. Presented by Caldeco Air Conditioning & Heating. Another stellar production from The Identity Tampa Bay and Joe.